SEPULTURA: LEGENDS IN THE MAKING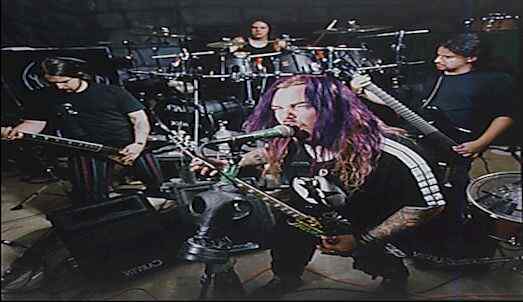 Full Discography Available for Listen AND Download!!!
LYRICS!! Click Here
Send Me Links to Your Favorite Band's Music!! Easy Submital Form
1984
THIS IS THE YEAR EVERYTHING STARTED. THROUGH THIS PERIOD BROTHERS, MAX AND IGOR, WERE SETTING INTO A FINAL LINE-UP FOR THEIR BAND. MAX HAD CHOSEN THE NAME SEPULTURA AFTER TRANSLATING THE WORDS TO A MOTORHEAD SONG CALLED "DANCING ON YOUR GRAVE". (THE WORD SEPULTURA MEANS GRAVE OR BURIAL). BY THE END OF THE YEAR THEY HAD ALLIASES FOR EACH MEMBER WHICH WERE MAX POSSESSED, TORMENTOR, DESTRUCTOR, AND IGOR SKULL CRUSHER.
1985
THE BAND BEGINS WRITING MATERIAL AND TOURING VERY SMALL VENUES TO SHOWCASE THEIR YOUTHFUL YET TERRIFYING TALENT. THEY GOT A RECORD DEAL WITH THE SMALL BRAZILIAN LABEL COGUMELO RECORDS. THIS;HOWEVER, DID NOT ALLOW THEM TO TOUR ANYWHERE OUTSIDE OF THEIR COUNTRY. THEIR FIRST RELEASE ON THIS LABEL WAS AN SPLIT L.P. THEY WORKED ON ALONG SIDE OVERDOSE. IT WAS CALLED "BESTIAL DEVASTATION". THEY PRESENTED THEMSELVES AS AN ARMY OF DEATH METAL SPENDING THE REMAINDER OF '85 SUPPORTING THEIR EARLY MUSIC AROUND THEIR AREA.
1986
NOW WITH A STRONG LOCAL FOLLOWING IN THEIR HOMELAND THEY MADE THEIR SECOND SELF PRODUCED C.D. CALLED MORBID VISIONS. IT WAS RECORDED IN A VERY SHABBY LITTLE BELO HORIZONTE STUDIO THAT DID NOT EVEN HAVE GUITAR TUNERS. BUT THE BAND MADE THE BEST OUT OF IT AND THE REST OF 1986 WAS USED TO SUPPORT THE C.D. NEAR THE END OF THE YEAR; HOWEVER, JAIRO FOUND HIMSELF DRIFTING AWAY FROM THE BAND AND BY YEAR'S END HE WAS OUT OF THE BAND.
1987
THE TRIO WAS NOW ON THE LOOKOUT FOR A NEW LEAD GUITARIST. A MAN NAMED MAGGOO FROM THE BAND MUTILATOR WAS FIRST ASKED FOR THE JOB BUT HE TURNED THEM DOWN. A GUY NAMED ANDREAS KISSER FROM PESTILANCE WAS THEIR NEXT CHOICE AND HE GLADLY JOINED UP WITH THE GUYS IN EARLY 1987. ANDREAS BROUGHT A NEW SOUND TO SEPULTURA AND THE BAND DITCHED THEIR TIRED OUT SATANIC NATURE TO DESCRIBE MORE OF WHAT HAPPENED AROUND THEM. THE RESULT: A C.D TITLED SCHIZOPHRENIA. SEVERAL COPIES OF THE C.D. GOT TO THE U.S.A BY BOOTLEG AND SOON PEOPLE BEGAN TO SPREAD THE WORD OF THIS AWSOME UNDERGROUND BAND.
1988
THE NEWLY FORMED SEPULTURA TOURED FOR THE NEXT YEAR PICKING UP MORE NOTICE FROM FANS AND SURPRISINGLY GRABBING ATTENTION OF MANY PEOPLE OUTSIDE THEIR COUNTRY. MAX MADE HIS FIRST TRIP TO THE UNITED STATES IN THIS YEAR IN HOPES OF INKING AN INTERNATIONAL RECORDING DEAL FOR SEPULTURA. EVEN THOUGH HE WENT BACK TO BRAZIL WITH NO CONTRACT, HE HAD MADE A GOOD IMPRESSION ON THE A&R OF ROADRUNNER RECORDS. HIS NAME WAS MONTE CONNER, AND EVEN THOUGH HE NEW THIS WOULD COMPLICATE THINGS A LOT HE WENT AHEAD AND SIGNED THE BAND.
1989
THE BAND, AMAZED BY THE TURN OF EVENTS, CELEBRATED BACK IN BRAZIL. HOWEVER, THE NEGOTIATIONS BETWEEN THE TWO COUNTRIES HAD SIDETRACTED THE BAND AND THEY RELIZED THAT THERE WAS NO MUSIC READY FOR THE NEW ALBUM. A MAN BY THE NAME OF SCOTT BURNS WAS ASSIGNED TO TRAVEL TO RIO AND PRODUCE THEIR NEW ALBUM. IT HAD BEEN A HECTIC YEAR FOR THE BAND AND THEY BARELY MADE IT THROUGH THE RECORDING PROCESS, BUT WHEN IT WAS ALL SAID AND DONE THEY HAD MADE ONE OF THE BEST THRASH ALBUMS EVER!
1990
THEIR DEVOTION HAD FINALLY ENABLED THEM TO MAKE IT OUTSIDE OF BRAZIL AND THEY WERE ABLE TO TOUR AROUND THE WORLD! ALMOST THE WHOLE YEAR WAS DEVOTED TO TOURING AND PICKING UP NEW FANS.
1991
THE BAND GATHERED ONCE MORE TO WRITE MORE MATERIAL AND MAKE AN ALBUM TO FOLLOW THEIR GROUNDBREAKING BENEATH THE REMAINS C.D., AND AGAIN SCOTT BURNS WAS SENT TO PRODUCE THE ALBUM WHICH WOULD BE THE FIRST ONE THE BAND MADE OUTSIDE OF THEIR COUNTRY. WITH THE FINISHED PRODUCT SEPULTURA HAD TAKEN ALL THEIR EXPERIENCE IN MUSIC MAKING AND HAD FUN WITH IT. IT HAD AN AMAZING SHOWING ON THE U.S. CHARTS FOR A HEAVY METAL BAND AND WENT GOLD STILL SELLING SIGNIFICANT NUMBERS TODAY.
1992
WITH THEIR FAME ON THE RISE SEPULTURA TOURED AND TOURED SOME MORE IN MANY DIFFERENT COUNTRIES. THEY RELEASED A VIDEO OF THEIR ADVENTURES TITLED UNDER SIEGE DURING THIS YEAR ALSO, WHICH INCLUDED A LIVE PERFORMANCE FROM THE BAND WHILE THEY WERE ON THE ARISE TOUR. IT WAS A SURE WAY TO PICK EVEN MORE FANS WHO WERE SKEPTICS IN THE BEGINNING.
1993
CHAOS A.D. WAS THEIR NEXT RELEASE AND WAS THE FIRST TO REALLY SHOWCASE SEPULTURA'S DIVERSITY. CHAOS A.D., SAID TO BE THEIR SOFTEST EFFORT, BLARED OUT IN A WHOLE NEW WAY AND TOOK THEIR MUSIC IN A COUPLE INTERESTING DIRECTIONS. IT HAD A MORE TRIBAL FEEL TO IT AND DISPLAYED MORE OF THEIR ROOTS. TRUELY THEIR ALBUM THAT DESERVES THE MOST RESPECT IN MY OPINION.
1994
THIS YEAR IT WAS TOUR TOUR TOUR. THEY HAD A MANAGER WHO MAX SOON MARRIED NAMED GLORIA CAVALERA. IN HER PREVIOUS MARRAGE SHE HAD A SON DANA WELLS WHO WENT BY THE NAME D-LOW AND WOULD BECOME MAX'S PARTNER AND COMPANION. MAX TAKES TIME OFF FROM SEPULTURA TO DO A SIDE PROJECT WITH FUDGE TUNNEL'S ALEX NEWPORT CALLED NAILBOMB.
1995
TO SHOWCASE THEIR VIDEOS AND SOME OF THEIR TOUR ANTICS THE BAND RELEASED ANOTHER HOME VIDEO TITLED THIRD WORLD CHAOS. AFTER THE THAT TOUR WINDED DOWN SEPULTURA BEGAN MAKING NEW DEMOS AND STARTED WORK ON THE ROOTS ALBUM. MORE HARDCORE TYPE OF INFLUENCES SURFACED THROUGHOUT THE RECORDING PROCESS. THE ALBUM SHOWED A HEAVIER AND MORE TRIBAL SIDE TO BAND UNLIKE ANYONE HAD HEARD BEFORE. THE RECORD WAS PRODUCED BY ROSS ROBINSON WHO HAD HELPFUL TIES WITH BANDS LIKE KORN.
1996
IN THE BEGINNING OF '96 ROOTS IS FINISHED AND READY FOR RELEASE. THE ALBUM, IN ITS FINISHED STATE, BECAME THEIR LANDMARK ALBUM AND UNFORTUNATLY WAS THEIR LAST WITH MAX ALONG FOR THE RECORDING PROCESS. DURING THE BAND'S ALBUM SUPPORTING EVENTS DOUBLE TRAGITY STRUCK WHEN MAX'S BEST FRIEND CHICO SCIENCE AND STEPSON DANA WELLS DIED. DANA HAD DIED ON AUGUST THE 16, 1996 IN A CAR ACCIDENT RUMORED TO BE HAVE BEEN CAUSED BY GANG MEMBERS CHASING HIM. FOR MORE INFO CLICK ON THE FOLLOWING LINK CLICK HERE . THIS TORE MAX, GLORIA, HIS FAMILY, AND THE REST BAND TO PIECES AND THE TOUR ENDED.
1997
THIS YEAR HAD THE RELEASE OF THEIR HOME VIDEO ROOTS VIDEOS TITLED WE ARE WHAT WE ARE. THERE WAS NO HIDING THAT BUSINESS TENSIONS WERE BREWING. THE REST OF THE BAND HAD FIRED MAX'S WIFE LEADING MAX TO FINALLY DEPART FROM THE BAND. YOU CAN NOW FIND MAX FRONTING A NEW BAND CALLED SOULFLY. IN THE MIST OF THIS ROADRUNNER RECORDS RELEASED A COMPILATION OF RARE TRACKS TITLE BLOODROOTED TO KEEP MAKING MONEY OF THE BAND THAT SEEMED TO LOOK LIKE IT WAS ALL BUT FINISHED
1998
BACK IN THE WORLD OF THE REMAINING MEMBERS, THE TRIO FELT LIKE PACKING UP ALL THEIR STUFF FOR A WHILE OR AT LEAST SPLITING OR CHANGING THEIR NAME. DURING 1998 THE TRIO BEGAN WRITING AGAIN AND DISCOVERED THAT THEY COULD STILL GO ON WITH THE HONORABLE SEPULTURA BANNER. ALL THEY NEEDED NOW WAS A SINGER. MANY TRYOUTS WOULD GO ON UNTIL THE BAND FINALLY DECIDED ON DERRICK GREEN AS THE NEW THROAT FOR SEPULTURA. HE HAD LAYED DOWN VOCALS FOR THE BANDS MATERIAL AND SENT IT TO BRAZIL. THE BAND SAW IN DERRICK A COMPANION AND A PERSON VERY MUCH LIKE THEM EVEN THOUGH RAISED IN ANOTHER COUNTRY. ON OCTOBER THE 8TH AGAINST WAS RELEASED IN AMERICA IN 1998.
1999
THROUGHOUT 1999 WAS A CHANCE FOR THE NEWLY CHARGED SEPULTURA TO TAKE THEIR NEW ALBUM ON THE ROAD. WHATS IN FOR SEPULTURA IN THE FUTURE? WELL STAY TUNED TO MY SITE AND I WILL KEEP YOU UP TO DATE WITH THE RECENT NEWS AND ALSO VISIT THE SOULFLY SITE FOR FURTHER UPDATES ON WHAT MAX CAVALERA IS DOING THESE DAYS!
2000
THE BAND SPENDS MOST OF THIS YEAR WRITING MUSIC TO THE FOLLOW-UP TO AGAINST INTITLED 'NATION' AND SPENDS LATE SUMMER AND FALL ON THE TATTOO THE EARTH TOUR. THE REMAINDER OF THE YEAR WILL BE SPENT RECORDING AND GOING THROUGH POST-PRODUCTION FOR THE NEW RECORDS TO BE RELEASED NEXT YEAR.
-history taken from http://www.angelfire.com/rock/sepulturatron/sepulturatron.html
Another History that's worth reading
I have not checked all of these links yet, but feel free to explore!!
http://home2.swipnet.se/~w-25936/sepultura/
Tabs - http://www.geocities.com/SunsetStrip/Alley/9884/
Back to Metal Massacre Pages brought to you by TheDemonsLair.com
Be sure to check out Slam!Radio 24/7 Metal!!
Vote for me in Metal-Rules.com Top 50 Metal Sites