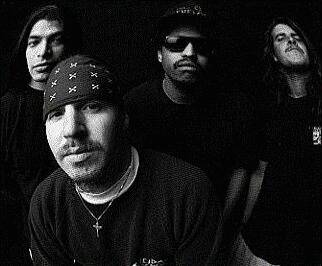 Metal Massacre Pages
Featuring Suicidal Tendencies - Pledge Your Allegiance
Suicidal Tendencies are :
Mike Muir - Vocals
Mike Clark - Guitars
Dean Pleasants - Guitars
Brooks Wackerman - Drums
Josh Paul - Bass
Formed in Venice, southwest Los Angeles, Suicidal Tendencies began as a skater-punk band back in 1982.
Have past eight albums, twleve years and a lot of members when Mike Muir, the best lyricist of the world, announced that ST are breaking up.
By 1991, there was a funk-metal twist thrown into the emotion pool of Suicidal and a funkadelic side band called Infectious Grooves was brought together by Muir & Trujillo.
By 1995 Mike Muir has formed a band called Cyco Miko , which has recorded "Lost My Brain (Once Again)" along with Steve Jones (ex-Sex Pistols) playing guitar on 7 tracks, in addition to Adam Siegel (Guitars), Dave Kushner (Guitars), Dave Silva (Bass) and Greg Saenz (Drums).
Now Adam Siegel is playing in a band called 'My Head' along with Dave Silva and Greg Saenz.
Mike Clark has formed his own band called Creeper.
In Late Summer 1996 the band has gotten back together. In June 1997 Prime Cuts was released with two new Songs from the upcoming Album in early 1998. Seems that ST has gone immortal.
- This info from http://www.geocities.com/SunsetStrip/Arena/4890/
Vote for me in Metal-Rules.com Top 50 Metal Sites